John C. Tibbetts donates rare interview materials to CSSF/AboutSF
On
26 Apr, 2011
By
Anonymous (not verified)
0 Comments

John C. Tibbetts, associate professor in the department of Film and Media Studies at the University of Kansas, has donated recorded audio interviews with luminaries in the fields of Science Fiction and Fantasy, including Ray Bradbury, Frederick Pohl and Stephen King, among others, to the J. Wayne and Elsie M. Gunn Center for the Study of Science Fiction in Lawrence, KS. The interviews, gathered during the course of a lifetime of reading, collecting, and writing about Science Fiction, include conversations with Poul Anderson, Jack Williamson, L.Sprague de Camp, children's book author Chris Van Allsburg, and many more. The Center for the Study of Science Fiction (www.ku.edu/~sfcenter/) and AboutSF plan to interview Tibbetts and present excerpts from Tibbetts' donated interviews as part of the ongoing AboutSF AUDIO podcast series (http://aboutsf.podomatic.com/). Professor Tibbetts' forthcoming book The Gothic Imagination: Conversations on Fantasy, Horror and Science Fiction in the Media will be published by Palgrave Macmillan in October, 2011. Upon making the donation, Dr. Tibbetts agreed to write a guest blog post about the donated materials for AboutSF: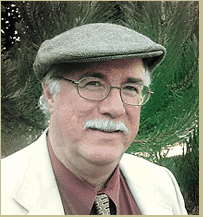 Statement about the Interviews
by John C. Tibbetts
These interviews were gathered during the course of a lifetime of reading, collecting, and writing about science fiction, fantasy, and the gothic tale. The writers here chronicle universes real and alternate, microcosmic and macrocosmic, from yesterday's Gothic romances to today's steampunk anachronisms.
Just as Edgar Rice Burroughs' John Carter speeds "with the suddenness of thought through the trackless immensity of space" to Mars, later writers—Jack Williamson, Frederik Pohl, Poul Anderson, L. Sprague de Camp, and Kim Stanley Robinson—follow him to the sun and beyond.[i] Peter Straub, Greg Bear, and Gregory Benford reverse their rockets and venture into the innermost recesses of the human heart and the human genome, respectively. In worlds between, H.P. Lovecraft unearths cosmic horrors in his native Providence; Ramsey Campbell finds demons under the streets of Liverpool. John Dickson Carr creates miracles in locked rooms. T. E. D. Klein discovers pagan gods in the woods of upstate New York. Ray Bradbury and Ray Harryhausen create dinosaurs in their garage. Suzy McKee Charnas psychoanalyzes a vampire. Wilson Tucker time-travels to an appointment with Abraham Lincoln. Stephen King "walks our dogs at night" in his stories. And Psycho's Robert Bloch rips away the shower curtain and leaves us forever afraid. . . . And artists Gahan Wilson, Joseph Mugnaini, Chris Van Allsburg, and Bob Kane unleash their enchanted pencils to inscribe modern-day fantasies and fairy tales.
By way of a personal note, this book is dedicated to my father, James C. Tibbetts. Like a modern-day Daedalus, he was the artificer of my wings. When I was just four years old, Dad wrote a letter to Edgar Rice Burroughs stating he had given me the middle name of "Carter" in honor of the immortal John Carter of Barsoom—which elicited a return letter from Burroughs that he was "honored to have originated a name for little John Carter." As the twig is bent. . . . Not much later Dad read to me Burroughs' A Princess of Mars (1912). I reveled in the exploits of Captain Carter years before I discovered the chronicles of his brethren, Captain Nemo, Allan Quatermain, and Professor Challenger. Even then I suspected what historian Lin Carter declared, that Burroughs was "the greatest adventure-story writer of all time";[ii] and that his stories, as confirmed by Sam Moskowitz, are direct descendents "of the travel tale typified by the Odyssey."[iii] Indeed.
Subsequently, Dad wisely stood aside while, on my own, I reached, read, and savored the treasured volumes from his collections of Arkham House, Gnome Press, Donald Grant, and other publishers. So many of the figures interviewed and discussed in these pages were there, on the bookshelves, just inches away from greedy fingers. (Most of those volumes serve as reference sources for this book.) The words of Percy Shelley come to mind:
While yet a boy I sought for ghosts, and sped
Through many a listening chamber, cave and ruin
And starlight wood, with fearful steps pursuing
Hopes of high talk with the departed dead.[iv]
As a member of First Fandom, Dad was welcomed at science fiction and fantasy conventions across America, with me in tow, tape recorder and notebook in hand. A friend of many, he introduced me to Poul Anderson, Jack Williamson, L. Sprague de Camp, Robert Bloch, Wilson Tucker, Forrest J Ackerman, James Gunn, and many others whom you will find in this book. I like to think that I returned the favor, sharing with him new-found friendships with others in this book, Ray Bradbury, Peter Straub, Chris Van Allsburg, Joseph Mugnaini, Suzy McKee Charnas, and Stephen King, to name just a few. Moreover, as a radio and television reporter, I was subsequently able to contact and interview these and many other filmmakers and actors prominent in science fiction films.
In the end, as Dad lay dying, I once again picked up our volume of A Princess of Mars. And, just as he had once read those magical opening pages to me, I now read them back to him. Together, we once again roamed with John Carter across the mossy expanses of the Red Planet. . . . And I know that they both are there, still.
________________________________________
[i]For example, recently, Kim Stanley Robinson imagines the astronomer Galileo taking a similar astral trip to the moons of Jupiter in Galileo's Ghost (New York: Ballantine, 2009). When Galileo looks into a telescope. . . in words recalling John Carter's passage to Mars. . . "A wave of dizziness passed through [Galileo's] whole body; it felt like he was falling up toward the white moon. He lost his balance. He felt himself pitch forward, headfirst into the device. . . . He was standing on the surface of the moon he had been looking at" (44-45). In a letter to the author, 5 February 2011, Robinson acknowledged, "It's true that Galileo's first trip to Jupiter is very like John Carter's great leap to Mars!"
[ii]Lin Carter, Imaginary Worlds, 50.
[iii]Sam Moskowitz, Explorers of the Infinite, 174.
[iv]Percy Shelley, Hymn to Intellectual Beauty, Stanza 5.