The 2011 Campbell Conference podcasts of Frederik Pohl's short fiction
On
12 Sep, 2011
By
Anonymous (not verified)
0 Comments
The theme for the 2011 Campbell Conference held this past July in Lawrence, KS was "Alternating Currents: Frederik Pohl and Theodore Sturgeon."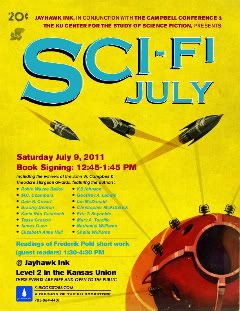 In honor of this theme, we published a recording of Mr. Pohl reading his story "Day Million" at the end of June, just before the beginning of the Campbell Conference:
http://aboutsf.podomatic.com/entry/2011-06-21T11_31_51-07_00
We also published a recording, donated by John Tibbetts, of an interview John conducted with Mr. Pohl during the 1984 Campbell Conference:
http://aboutsf.podomatic.com/entry/2011-07-05T12_19_24-07_00
Mr. Pohl, one of the shining lights of the field of Science Fiction, blogs prolifically at:
http://www.thewaythefutureblogs.com/
At the 2011 Campbell Conference the honored guests, including 2011 Theodore Sturgeon Memorial Award winner Geoffrey Landis and 2011 John W. Campbell Award winner Ian McDonald, chose short works written by Frederik Pohl which they read aloud as part of the festivities. Mr. Pohl has graciously given AboutSF permission to publish these recordings as podcasts, so that fans and scholars alike may enjoy them. All of our special guests have also given AboutSF permission to use the recordings.
Beginning today, with a recording of "Fermi and Frost" read by Asimov's editor Sheila Williams, AboutSF will publish a new podcast of the recordings each Monday, until they have all been published. The order of the recordings is the same order in which the stories were read at the Campbell Conference. I want to personally thank Mr. Pohl and all of the readers for their permissions to use the recordings, and for giving such wonderful readings at this year's Campbell Conference. Below you will find a list of the stories and the readers.
--Ben Cartwright
1. Story: "Fermi and Frost"
Reader: Sheila Williams
2. Story: "Spending a Day at the Lottery Fair"
Reader: Kij Johnson
3. Story: "The Meeting"
Reader: Bradley Denton
4. Story: "The Mayor of Mare Tranq"
Reader: Elizabeth Anne Hull
5. Story: "Let the Ants Try"
Reader: Robin Wayne Bailey
6. Story: "The Day the Icicle Works Closed"
Reader: Ian McDonald
7. Story: "The Deadly Mission of Phineas Snodgrass"
Reader: Geoffrey A. Landis
8. Story: "The Place Where the HeeChee Went" (an excerpt from the novel Beyond the Blue Event Horizon)
Reader: Mary Turzillo